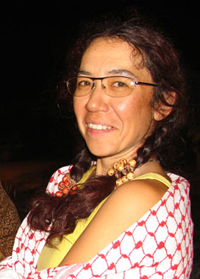 Position:
Senior Research Scientist
Department:
Department of Physical Geography and Environmental Management Problems
Main topics of scientific research
Geochemistry of arid landscapes, atmogeochemistry, geochemical flux in mountain ecosystems, geochemistry of atmospheric aerosols.
REGIONS: Central Asia, Tien-Shan, Altai, Caucasus, Kalmykia, Valdai Hills, Arctic
Main publications
Kuderina T.M. Geochemical monitoring of surface aerosol of background and anthropogenic landscapes. // «Aktual'nyeproblemyekologiiiprirodopol'zovanija», vyp.14. Ch.2. M.: RUDN, 2012.
A.V. Trefilova, M.S. Artamonova, E.I. Grechko, D.P. Gubanova, K.A. Davydov, M.A. Iordanskij, T.M. Kuderina, V.M. Minashkin. Aerosol contamination in conditions of metropolis and background zone. // Geofizicheskieissledovanija, 2012.
Kuderina T.M., Merzljakova I.A., Kudikov A.V. Suggestions to the program of monitoring of geochemical landscapes of Altai-Sayanecoregion in transboundary context. // In the collection of the International Consultative Meeting "Climate Change and Constant Preserving of Biodiversity in Altai-Sayanecoregion".Ust'-Koksa, 2010.
Kuderina T.M. Desertification and certain landscape-geochemical processes.// «Opustynivaniezasushlivyhzemel' Rossii: novyeaspektyanaliza, rezul'taty, problemy. M.: KMK, 2009.
Kuderina T.M., Tertickij G.M. Impact of seabird colonies on landscape-geochemical state of seashore ecosystems (Western Spitzbergen).//Environmental and climate change: natural and associated anthropogenic catastrophes. T.3.Ch. 2.Natural processes in polar regions of the Earth. Otv.Red. V.M. Kotljakov. M.: IGRAN, IFZ RAN, 2009.
Kuderina T.M., Shil'krotG.S..Kudikov A.V. Quality of surface waters of mountain landscapes of Northern Caucasus //In collection of the international conference "Geoecological problems of modern time". Vladimir. 2008.
Shil'krot G.S., Kuderina T.M. Similarities and differences in geo- and hydrochemical properties of slightly disturbed lake geosystems of Bolshoi Solovetsky island and Karelia //Environmental state of continental water basins of northern territories. (Tr. mezhdunar. konf., g. Arhangel'sk. 21-25 ijunja 2005 g.). SPb: Nauka. VVM. 2005.
Kuderina T.M. Geochemical landscapes ofSelizharovskyplyos.//Structure and functioning of geosystem of the Lake Seliger in modern conditions. – SPb.: Nauka, 2004.